Lieberman Case Study
Lieberman Connects with SAP via /n software ERP Integrator
Lieberman Software Corporation leverages /n software ERP Integrator to bridge their award-winning identity management and security solutions with SAP NetWeaver.
---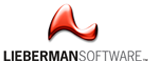 "The /n software ERP Integrator for SAP made working with SAP dramatically easier, and enabled us to bootstrap our initial integration in less than a week. While the SAP documentation is notoriously complex and confusing the samples and documentation from /n software were straightforward and helped us build our solution quickly."
- Philip Lieberman, President, Lieberman Software
Download Case Study
The Challenge
Allow authorized SAP users access to privileged user accounts in a secure and audited manner, a functional requirement of security auditors and regulators.
Seamlessly integrate SAP connectivity across supported platforms and technologies.
Deliver new SAP functionality quickly to meet aggressive release timelines.
The Solution
Use the /n software ERP Integrator for SAP as an API / protocol bridge between SAP systems and Lieberman Software products.
Leverage easy-to-use component interfaces, support resources, demos, and documentation to quickly deliver new functionality and take advantage of market opportunities.
The Result
Rapid integration of SAP NetWeaver. Integrated new capabilities in under 2 weeks leveraging the /n software SAP components.
Extensible design enabling Lieberman Software to easily add additional functionality as customers gain familiarity with SAP integration.