S3 Drive
Easily connect to any Amazon S3 compatible storage service via a local virtual drive. Browse and interact directly with your remote files without creating local copies.
Download
S3 Drive is now cross-platform! In addition to Windows, S3 Drive now runs on Linux, macOS, and anywhere libfuse is available.
FREE Starter Edition (Including Commercial Use)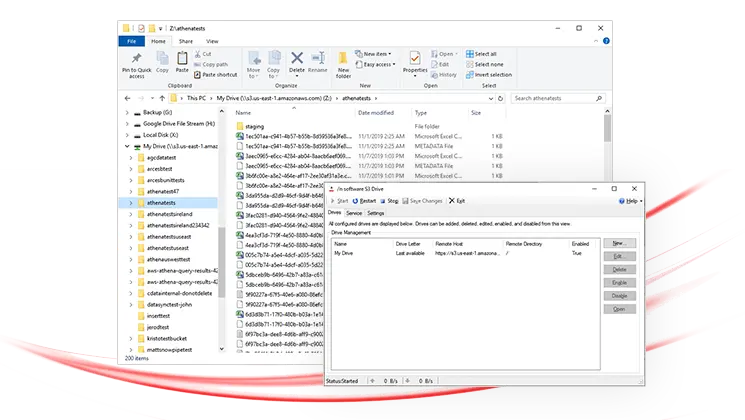 Work With S3 Storage as a Local Virtual Drive
Built with the same attention to quality and security that has made /n software the most trusted source for communications software components, S3 Drive is a powerful utility that enables you to connect and work with any S3 compatible service as a local drive. You can easily manage your remote files without having to upload and download them. Map and mount any S3 compatible storage service such as Amazon S3, Digital Ocean, Wasabi, and more.
S3 Drive supports all common directory and file actions, including create, open, read, write, rename, delete, move and copy using your favorite command line or the right-click menu. S3 Drive's flexible local cache enables support for random read-write, so you can even edit files stored in S3.
For additional protection of data in flight, a FIPS 140-2 enabled version is available. Please contact sales@nsoftware.com for more information.
Supported Providers
S3 Drive directly supports a number of popular S3 providers. You can also add your own S3 compatible custom provider for any service not listed below.
Easy-to-Use
Use the intuitive installer, enter your connection credentials, and begin working with remote files in minutes.
Connect to Any S3 Service
Map and mount any S3 compatible storage service such as Amazon S3, Wasabi, and DigitalOcean. No external dependencies.
Outstanding Technical Support
Backed by an expert team of support professionals. Free Email Support for everyone. Premium Support also available for a fee.
Product Features
Use your favorite file manager, such as Windows Explorer.

Store multiple connection profiles for quick and convenient connection.

Run as a Windows service or desktop application.

Supports all common directory and file operations such as move, copy, and rename in both Windows UI and the command line.

Choose to use S3 Drive as a Desktop application or from the command line.

FIPS mode can be enabled for use in high security environments.

Support for Windows Arm64.

Runs on macOS and Linux.
Starter
---
FREE Perpetual License for both Personal and Commercial Use. Limited Email Support.
Desktop Operating System
Single Drive Instance
Essential Features
Always Free
Standard
---
Perpetual License with one year of free updates and upgrades. Standard Support.
Connect Multiple Drives
Run as a Windows Service
Advanced Features
Order
Professional
---
Perpetual License with one year of free updates and upgrades. Priority Support.
Server Operating Systems
Isolated Drives
All Features
Order