Cloud Keys Library
Securely manage keys and secrets with popular cloud-based key management services such as Amazon KMS, Amazon Secrets, Azure Key Vault, Google KMS, and Google Secret Manager.
Download
The Latest Cloud Keys Is Now Available! The most recent version of Cloud Keys features a modernized and streamlined experience, including async and cross-platform support in .NET [learn more].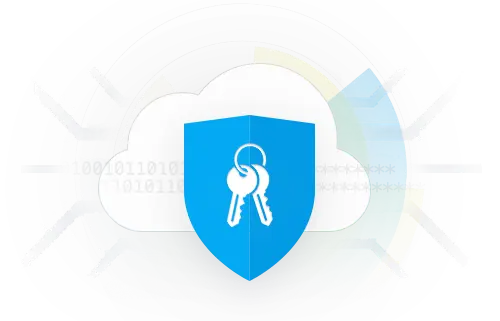 Cloud Key Management Components
Cloud Keys makes it easy to integrate cloud-based key and secret management with any supported platform or development technology. The easy-to-use components can be used to securely integrate with popular cloud key management providers like Amazon KMS, Amazon AWS Secrets, Azure Key Vault, Google Cloud KMS, and Google Secret Manager.
Uniform & Extensible Design
Very easy to use, with a uniform, intuitive, and extensible design. Common component interfaces across platforms and technologies.
Fully Integrated Components
Native software components for any supported development technology - with no dependencies on external libraries.
Blazing Fast Performance
Based on an optimized asynchronous socket architecture that has been actively refined for over three decades.
Outstanding Technical Support
Backed by an expert team of support professionals. Free Email Support for everyone. Premium Support also available for a fee.
Additional Features
Detailed documentation, hundreds of sample applications, fully indexed help files, royalty-free licensing, and more.
Red Carpet Vol. 2 2023 Now Available
IPWorks VoIP, Cloud SMS, PKI Proxy, SecureBlackbox, and more
New and updated Red Carpet Subscription toolkits and products are now available. Cloud SMS has been released. IPWorks VoIP and PKI Proxy have been updated. S3 Drive and SFTP Drive now support Linux. Advanced timestamping and AdES capabilites have been added to SecureBlackBox.
Cloud Keys is available as part of the Red Carpet Subscription. Download Cloud Keys or read the update highlights.
Product Features
A complete unified framework with a common, easy-to-learn object model and simplified interfaces enable you to do more.

Components are thread-safe on critical members.

Fast, robust, reliable components that consume minimal resources.

Native development components for all supported platforms and technologies.

Rigorously tested, rock solid libraries that have undergone hundreds of thousands of hours of testing both internally by our QA team and externally through customer installations.

Detailed reference documentation, sample applications, fully-indexed help files, and an extensive online knowledge base.

Backed by multi-tier professional support, including free email support and enterprise-level paid support.
Components for Cloud Key Management
The following components are included in Cloud Keys. Please note that due to platform limitations, not all components are available in all editions.
Included Demos
The following demos are installed with the product. Please Download the trial to get started.
Amazon KMS

Uses the AmazonKMS component to help you manage and use your customer master keys ...

Delphi, Java, .NET Framework, Python, C++

Amazon Secrets Manager

Uses the AmazonSecrets component to help you manage your secrets.

Java, JavaScript, .NET Framework, C++

Azure Keys Manager

Uses the AzureKeys component to help you manage and use your cloud keys.

Delphi, Java, .NET Framework, Python, C++

Azure Secrets Manager

Uses the AzureSecrets component to help you manage your secrets.

Delphi, Java, .NET Framework, Python, C++

Google KMS

Uses the GoogleKMS component to help you manage and use your cloud keys.

Java, .NET Framework, C++

Google Secrets Manager

Uses the GoogleSecrets component to help you manage your secrets.

Java, .NET Framework, C++
Download Trial
---
30-Day Fully-Functional Trial
Get started today and see why developers worldwide
choose /n software components.
Download
Order Online
---
Starting at $699
Cloud Keys includes everything needed to add Cloud Key Management to any application - on any platform or development technology.
Order