SFTP Drive
An easy-to-use utility that mounts SFTP servers as local drives. Once connected, you can browse and work with files as if they were stored on your local machine.
Download
FREE Starter Edition (Including Commercial Use)
SFTP Drive is now cross-platform! In addition to Windows, SFTP Drive now runs on Linux, macOS, and anywhere libfuse is available.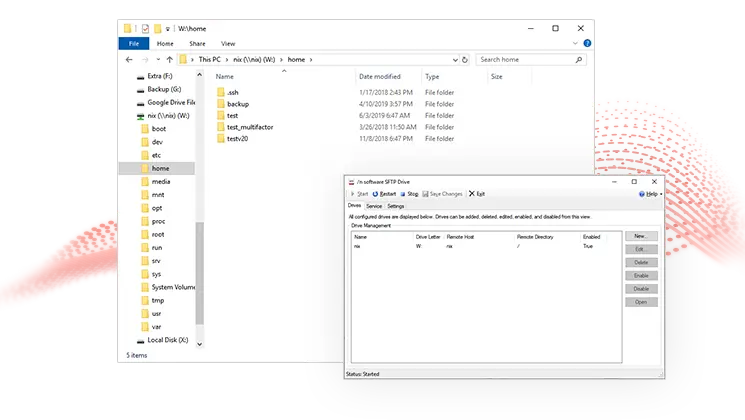 Work With SFTP Servers as Local Virtual Drives
Built with the same attention to quality and security that has made /n software the most trusted source for communications software components, SFTP Drive simplifies working with files stored on remote servers by enabling you to access them as if they were stored locally on your machine. This eliminates the need to download and upload files you need to work with. Accessing remote files via a drive can also greatly simplify script or application code.
For additional protection of data in flight, a FIPS 140-2 enabled version is available. Please contact sales@nsoftware.com for more information.
SFTP Drive Works With Yubikey!

SFTP Drive is compatible with YubiKey, and has been verified by Yubico. In addition to the SFTP security the drive provides, the PIV-compatible YubiKey enables hardware-backed authentication on the remote system [learn more].
Easy-to-Use
Use the intuitive installer, enter your connection credentials, and begin working with remote files in minutes.
Secure Connection
SFTP Drive uses the Secure File Transfer Protocol (SFTP) to ensure the strongest security possible.
Outstanding Technical Support
Backed by an expert team of support professionals. Free Email Support for everyone. Premium Support also available for a fee.
Product Features
Use Windows Explorer or your favorite File Manager.

Choose from three authentication types: Password, Key-based, or both. Additionally, three key types are supported: Authentication Agent (PuTTY or SSH), Load From File, and Security Token or Smart Card.

Store multiple connection profiles for a quick and convenient connection.

Supported on Linux, macOS, and anywhere libfuse is available.

FIPS mode can be enabled on Windows editions for use in high security environments.

Perform common directory and file operations such as move, copy, rename, etc.

Support for Windows Arm64.

Works as a command line application on all OSs, or on Windows as a Desktop Application or Windows Service.

Configure advanced Profile Settings that give you granular control over how you connect to your server.

Import drive settings from PuTTY or FileZilla.

Supported on Windows 7 / Server 2008 R2 and up.
Starter
---
FREE Perpetual License for both Personal and Commercial Use. Limited Email Support.
Desktop Operating System
Single Drive Instance
Essential Features
Always Free
Standard
---
Perpetual License with one year of free updates and upgrades. Standard Support.
Connect Multiple Drives
Run as a Windows Service
Advanced Features
Order
Professional
---
Perpetual License with one year of free updates and upgrades. Priority Support.
Server Operating Systems
Isolated Drives
All Features
Order